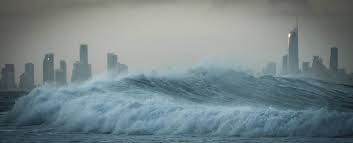 It's only when the tide goes out that you learn who has been swimming naked. – Warren Buffett
As I write this, COVID-19 has about 80,800 confirmed cases worldwide and 1,323 in the US. The operative word there is "confirmed" since by reason there will be many thousands that are unconfirmed and undetected. The virus spreads exponentially so, and I don't mean to sound like a pessimist, it will eventually arrive like a tsunami.
Perhaps because my entire career has been focused on business continuity, I'd suggest that we personally look at the best case, worst case, and develop a probable case plan with some contingencies.
Best case: The government and public implement containment procedures that slow the spread, the most susceptible are substantially protected with extra care, the warm weather calms the spread as it does with most traditional flu seasons, and perhaps we even develop a vaccine or at least get enough test kits available so that every clinic and drugstore can administer them.
Worst case: The virus spreads like wildfire (think Stephen King's The Stand) and continually mutates faster than vaccines can be developed becoming increasingly lethal.
Probable case: A combination of the above, hopefully and likely trending to the best case. It will probably come swiftly and mostly go, and life will go on. It will have a horrific death toll and cause all types of economic turmoil. It will be a sad and difficult memory, although hopefully the lessons learned will help future generations (that sounds even to me like I expect to be gone, which I don't) be better prepared for such events.
One of my favorite clients has been PSS World Medical, who a few years ago became part of McKesson. For a couple of decades they were the largest distributor of medical supplies to doctor's offices in America, and built their business on their FedEx type motto "Next day delivery of medical supplies". We've completed over 200 leases for them and dozens of moves, many of them quite major consolidations of large distribution facilities.
And like FedEx, they had urgent medical supplies that "absolutely, positively" had to be delivered the next day. Lives could depend on it. And so they were, and the distribution system went on every day, year in and year out, regardless of what issues, holidays, natural disasters, or other obstacles appeared. And whatever disaster happened, and there have been a few, life eventually returned to normal.
To that point, especially given the current situation, medical products need to be delivered today and tomorrow and next week. Health workers, who will be revered like the firefighters after 9/11, will need to put themselves at risk. Those of us who are able need to take whatever precautions we can to slow the transmission. But we won't quickly stop it.
This event, from a business perspective (and I realize business is not the most critical concern at the moment although it will be after the health issue is mostly contained) will likely also arrive like a financial tsunami for both individuals and any businesses that are highly leveraged and/or without a strong financial cushion. Per Warren Buffett's quote, we're going to find out which ones were swimming naked. Many thinly capitalized businesses will default on invoices and rent payments. The spigot of revenue is going to completely shut off at least short term for many, which will become a trickle down problem for everyone that does business with them.
Statistically, I fall in the unfavorable survival category based on age for both my family and our business. And while I and you fully expect to – and hopefully will – survive, we owe it to both our families and our businesses to provide continuity during this tough time and keep everything buttoned up so that life can go on as it did before once this all ends. And it will end. And the world will go on as it did before.
https://avocatgroup.com/wp-content/uploads/2020/03/Tsunami.jpeg
143
353
Walt Batansky
https://avocatgroup.com/wp-content/uploads/2019/10/Avocat_final_with_crossbar-1-300x272.png
Walt Batansky
2020-03-13 13:56:43
2020-03-13 14:04:25
The Tsunami