As the corporate world continues to evolve, so does the way we think about our workplaces. Recently, there has been a growing trend toward downsizing the footprint of office facilities and a focus on the "Flight to Quality" strategy.
It is an acknowledgment of the changing nature of workspaces and how businesses can adapt to remain competitive. With a shift toward flexible and remote work arrangements, the need for large, traditional office spaces is decreasing.
If there is a single chart that illustrates this recent flight to quality by office space users, it is this:
Every single age category of office buildings has lost more leased space than gained, except for buildings built since 2015. This chart details space under lease, so the vacancy here does not consider the reduced utilization due to many of the remote or hybrid workers. Note how much space demand has simply vanished: Approximately 190 million SQFT. The positive absorption by 2015+ buildings is more than offset by the loss in buildings built in the 1980's alone.
The flight to quality strategy emphasizes the importance of creating a high-quality workplace that provides a unique experience for employees. The goal is to make the office a place that employees want to come to, even if they have the option to work from home. It's about optimizing the workplace for collaboration and social interaction. As remote work becomes more common, the office will increasingly serve as a hub for in-person meetings and brainstorming sessions not the human warehousing of the past.
The flight to quality strategy is all about creating an environment that inspires and engages employees. This includes investing in cutting-edge technology, flexible workspaces, and amenities that make coming to the office an enjoyable experience. Companies that embrace this strategy are able to attract and retain top talent while boosting productivity and collaboration.
Buildings that came online in the last 7 years also tend to be greener, often with BREEAM, WELL, or LEED designations indicating energy efficiency, more natural light and materials, and a reduced carbon footprint.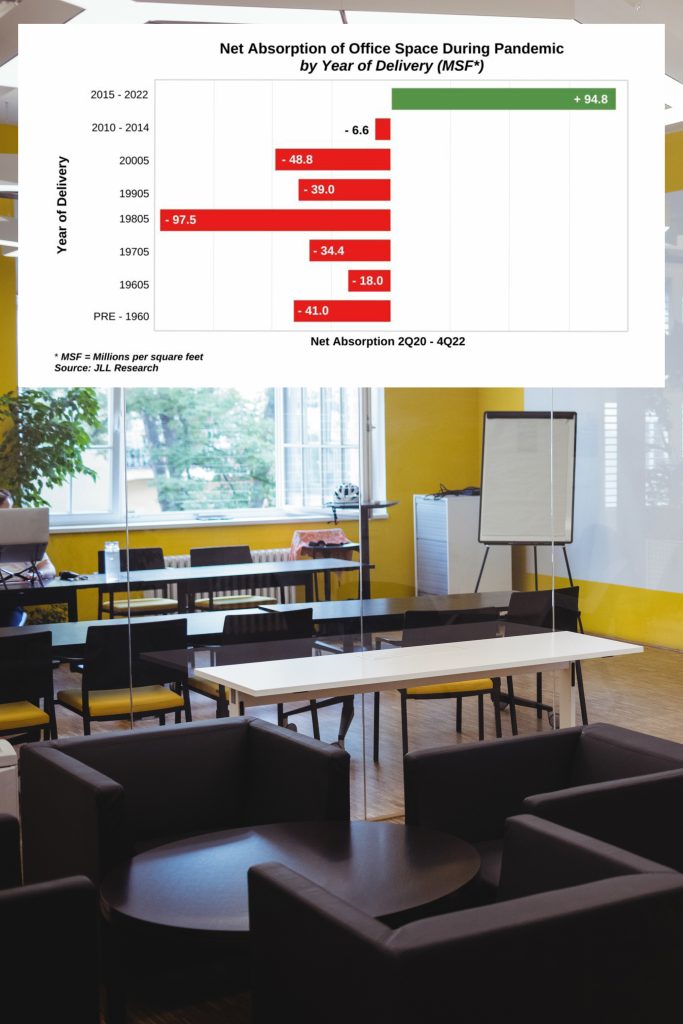 So why doesn't every company join the flight to quality movement? One of the biggest challenges is the cost of implementing a high-end workplace. Companies that choose to invest in advanced technologies and amenities must be willing to make a significant financial investment. Additionally, the ongoing costs of maintaining and upgrading these features can be substantial.
This illustrates the operator that makes this strategy so appealing, and more often easy enough to get approved by the CFO: the simultaneous adjustment to footprint size. As firms make the move to hybrid or flexible work, we're seeing reductions of 25-75% in SQFT per staff member. This often makes the cost of these high-quality leases equal to or less than the previous annual rent expense.
Some companies are also still questioning the need for a physical workplace at all. With the rise of remote work, more former space occupiers are doubting the need for traditional office space. Remote work arrangements can provide flexibility and cost savings, but they can also make it more difficult to build strong team relationships and maintain company culture.
When comparing the flight to quality strategy to other workplace strategies, it becomes clear that there is no one-size-fits-all solution. Each company must evaluate its unique needs and goals to determine the best approach.
Ultimately, a flight to quality strategy offers a compelling option for companies that prioritize employee satisfaction and engagement. By investing in a high-quality workplace, companies can attract and retain top talent while fostering a culture of innovation and collaboration. While this approach may require a significant financial investment, the long-term benefits can be substantial.
The flight to quality strategy is not just about creating a workspace – it's about creating a culture that inspires and engages employees. Companies that embrace this approach will be well-positioned to succeed in the future.
Avocat Group provides a comprehensive plan and strategy around all of your real estate needs. We only represent business space users, the tenants & buyers, to deliver a conflict-free strategy that you can clearly understand
Interested in conflict-free advice with no obligation?