As more companies shed excess office space, we're seeing forward-thinking CFO's leading the charge. 
In the latest FL Institute of CFO's survey with over 100 CFO's of firms over $50MM responding, 43% expect to reduce office expenses in 2021 and 50% expect office costs to be flat.  That places office expense reductions just behind corporate travel and entertainment.  Check out the results: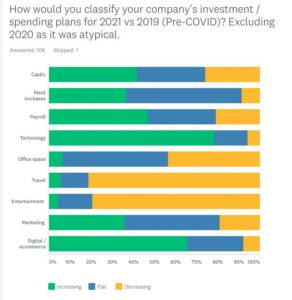 Here's why that is significant:  86% of these companies expect revenue growth and 57% expect headcount growth.  That means this reduction is a result of reduced footprint, not a reduction in staff or revenue.
Due to the long term nature of lease obligations, you can also bet that a significant portion of the flat 50% will take advantage of reduction opportunities as the lease terms roll over.
There are four significant drivers behind this reduction all related to an increased remote work strategy:
Staff Retention:

  74% of employees said they'd like to work from home at least two days a week according to a

PwC survey

.

Expanded Labor Pool:

  A partially remote workforce expands access to talent and increases opportunity for diversity. 

Amex

is among the firms that have specifically stated that this is a goal.

Expense Reduction:

 There are savings on real estate expenses for the company of course, and remote work also offers savings to the employee for items such as meals, transportation, parking, and dry cleaning.

Productivity:

 

Global Workplace Analytics

did a study that estimates annual productivity improvements from less interruptions and commute time from working remotely at just 2/days/week at $4200 per employee.
Smart executives are getting ahead of the curve and leveraging the opportunity.  Are you?
Work is what we do, not where we go.
—–
If you'd like to get more insight as to what other firms are planning, take this five question two minute survey:
Note:  The survey is open to firms with 50 or more office staff only!  Please respond only if you fit that criteria.
Your individual response will be confidential and presentation of all results will be anonymous.  Respondents will get detailed results and we'll have future posts here discussing general trends.  We appreciate your participation.